Staff Answer

Oct 31, 2019 - 06:53 PM
Hi,
Thanks for your question.
I'd like to inform you that as far as the information search goes, go4WorldBusiness provides some of the easiest tools to find details related to products, business units and locations.
Please follow the steps mentioned below to find information you've asked -
1. Login to go4WorldBusiness.com
2. Type chemicals in the advanced search bar and then click "Find Suppliers" since you want to import the product.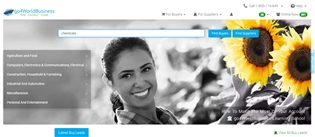 3. In the search result page visible below, you'll see all suppliers and their product range related to chemicals. Additionally, you can also check individual chemical type category listed on the right side of the search page.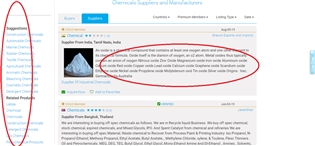 4. To answer the final part of your question, you need to connect with one of the many suppliers who are listed on the page. For this, you must choose from the suppliers available in many geographical locations to the one that suits you best. Also, our Gold and Silver members with high
TrustScore
are always shown on top of the results page and allow you to connect with them first, by the virtue of their great track record in doing business with other buyers on our platform.
5. Once, you've selected a few suppliers, you can simply connect with them by visiting their profile and posting a query in the form available on supplier profile page. Alternatively, you can directly clock on the Inquire Now button listed under each supplier's lead on search page.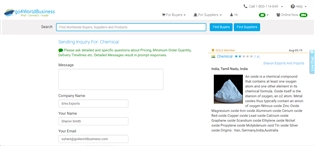 6. Alternatively, you can post your buy lead, which, after verification, will be made live for suppliers to see.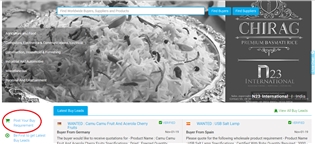 Please rest assured that the suppliers will contact you directly in response to your inquiries of buy leads posted on our website.
Hope this answers your question.
Regards,
go4WorldBusiness.com Team