Staff Answer

Oct 16, 2019 - 06:33 PM
Hi,
Thanks for your question.
If you're looking for
wholesale buyers of footwear items
such as ballerina, leather shoes and sandals, then you will find plenty of them both locally as well as globally on our website.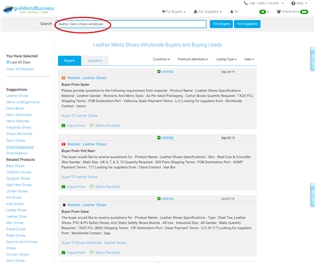 You can benefit from our advanced search in finding the latest buy leads from specific country to a continent. For wholesale buying requirement, do not forget to add the word "wholesale" to your search keywords.
Hope this answer helps.
Good luck to you from all of us at go4WorldBusiness.com