Staff Answer

Jul 24, 2019 - 10:31 PM
Hi,

Thank you for posting your query and our apologies for not responding sooner. To answer your first question, one of your supplier leads do show on our platform.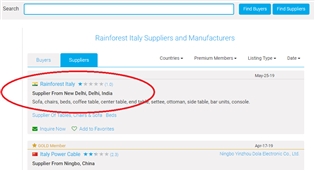 However, the reason it is not on the first page of results is because the suppliers who are Gold/Silver Members are given priority display on our search results page. We'd highly recommend that you become a paid member with us after which you will not only appear on top of results visible to buyers/sellers who are looking for relevant products, you will also be able to get more buying leads. In addition, you will have access to direct contact details of potential buyers.

I believe this also answers the second part of your question that talks about how you're not able to get product specifications and significant information to process effective quotation and eventually order fulfillment. An effective communication is the key here. Please note that in order to stand out among the many suppliers trying to pitch in their quotation and indicative price, you need to have proper correspondence and as a paid member, the contact details you're provided can be used to get in touch with buyer and share sample pictures at both ends directly.
The best way to pitch for such inquiries is by keeping primary information like indicative pricing, minimum order quantity, product origin, quality certification etc. in bold letters and provide detailed description of the product you're offering. Always embellish your email/Whatsapp communication with high quality images to make sure the first impression is impacting.

For more information on how to create a perfect sales quote, click the link.

Good luck with all your endeavors.