Answers

Mar 15, 2019 - 01:18 AM
Hi -
That's a great question. There are multiple places where your "Verification Status" is visible to potential buyers so they can buy with confidence.
1. This badge appears as a green colored tick mark on your profile. When a buyer studies your profile to assess your suitability as a new supplier, this is a very strong indicator to them that they will be dealing with a reliable party.
2. The second important place where this green "verified" badge is visible is in search results (and category listings). So, when a buyer is studying search results for the product he wants to purchase (e.g. coconut copra), he sees the "verified" badge across the profiles of those sellers who have taken the time to verify their profiles with us.
Please refer to the attached image to see where these badges appear. It is very important that you verify your profile with us as not only are verified profiles trusted more by buyers, they are also ranked higher in the search results compared to unverified profiles.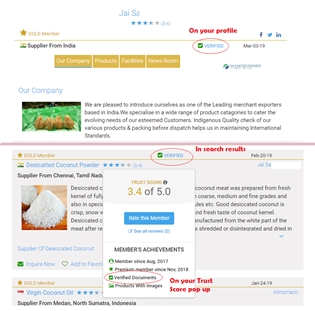 I hope this answer helps. If not, you can always
get in touch
with one of our knowledgeable support advisers who will be more than happy to help you with any other questions.
-Team go4WorldBusiness.