Answers

Jan 28, 2019 - 05:15 PM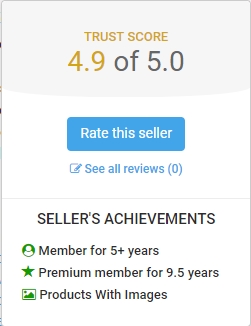 The go4WorldBusiness Trust Score is calculated using the following factors, ordered by most impactful to least impactful.


1. Your go4WorldBusiness profile ratings & feedback. This factor has the most impact on your Trust Score. You should ensure that buyers you work with leave positive ratings and review on your profile. Please be careful not to have your friends and colleagues provide fake reviews as that may result in your profile getting banned.


2. Your profile verification status. We attach an inordinate amount of importance to profile verification. Companies that get their profiles verified by providing verification documents and certifications to us receive much better Trust scores.


3. Complete and detailed profiles. We require you to keep your profile current and complete at all times. Therefore, users who take the time to setup a detailed company profile as well as add products with complete details (Minimum Order Quantity, FOB Prices, Product Origin etc) and images get ranked higher.


4. Gold/Silver Membership without break. You receive extra Trust Points for maintaining your Premium membership with us without break. If you do not renew your Gold/Silver membership on time, any prior Trust Points you have accumulated is lost.


5. Profile Age. Your profile automatically receives positive points as it ages with us.


Our rating algorithm calculates your Trust Score based on the above factors. The exact weightage assigned to each of these factors is proprietary and cannot be disclosed.
For any questions, you can contact us via phone, email or live chat support.