Answers

Oct 05, 2018 - 08:32 AM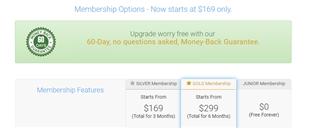 All go4WorldBusiness premium plans come with a 60 day, no questions asked, money back guarantee. This means that
after using our service as a premium member for the first 2 months of your membership, if you feel that you are not finding the kind of success you were expecting, you can ask your membership charges to be refunded
back to the original account from which you had made the payment.
As a Gold member, you will have access to dedicated customer support through your Relationship Manager and he/she will be responsible for ensuring your experience on go4WorldBusiness is fruitful. If during the first 60 days or anytime during the validity of your paid subscription, you need any assistance or support please reach out to your Relationship Manager to get your problems resolved. If we are unable to resolve your issues, we will be happy to issue you a refund.
So, what are you waiting for?
Upgrade to a Gold membership
absolutely risk free and start growing your business with us.
Note however, that the money back guarantee applies only to first time paying customers
. If you are a repeat customer you will not be able to raise a refund request, since the assumption is that you already know how good our platform is and the benefits it brings to your business and therefore, you upgraded your account fully knowing what you are paying for. This condition is to discourage gamers and some users who upgrade their accounts again and again and ask their accounts to be refunded each time after using the platform for 60 days.
Other useful links:
Customer Testimonials
,
Membership plans
.
Questions?