Answers

Sep 26, 2018 - 12:02 AM
Each and every buy lead posted on go4WorldBusiness is verified
. go4WorldBusiness has a large, dedicated buyer lead verification team. This team speaks with hundreds of buyers on the phone, each day, to ensure the leads are high on quality and have sufficient details for you to prepare a meaningful quotation.
However, since the daily volume of leads posted is quite high, it is not possible for us to carry out detailed verification of a buyer's authenticity by looking at his/her company documents. Employing third party verification agencies to scrutinize each buyer is also not economically feasible at large scale. Therefore, we advise users to
independently verify every buyer they meet online
by requesting them for their company documents, identity proof, credit checks etc. Additional checks should also be performed to ensure that the buyer has imported products in the past. An old bill of laden from a past transaction can serve as a proof for this.
On the seller side, we do check company documents to ensure that sellers are genuine. However, note that it is voluntary on the part of the seller to go through the verification process. Every seller that we verify receives a badge on their profiles to indicate their account verification status. We advise buyers to only interact with those sellers who have completed profile verification. Similarly,
we advise sellers to get their accounts duly verified
to increase their chances of receiving direct inquiries from buyers.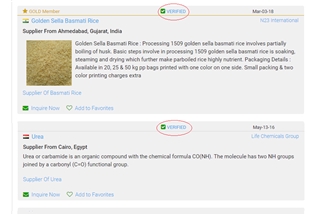 Lastly, if you still have doubts about the authenticity of buying leads, we offer a service guarantee in the form of 60 day, 100% money back guarantee. If you are for some reason dissatisfied with your experience on go4WorldBusiness after upgrading to a paid plan, you can request a refund of the subscription fees within 60 days of upgrading your account.

Additionally, Gold members also get the added benefit of participating in on-going go4DealMakr deals at no added cost. In go4DealMakr, you get to work with a dedicated Deal Manager, who will work with you to connect you to a verified buyer.
If you have additional questions, please
contact us
.