Answers

Sep 25, 2018 - 11:53 PM
You can contact other users, including buyers by clicking on the "Inquire Now" link, that can be found against all buyer/seller listings. Clicking "Inquire Now" will take you to a page with a form where you can type your message/quotations and fill in additional details about your company. Once you complete all fields, please fill in the captcha code accurately and submit the form. The other party will receive your message promptly.
Our Gold and Silver members also receive contact details (phone number and email address) of buyers via a systematic email after responding to a buying lead on go4WorldBusiness. This helps you contact the buyer at your own convenience and also gives you the added benefit of being able to talk to the buyer on the phone to secure your deal.
Following is a screen shot of the inquiry form that you must fill to send your message to the other party. Please only send relevant messages, rich with information as
SPAM senders get heavily penalised and banned from go4WorldBusiness
. Always remember, if you want your message to be responded to by the buyer, make sure you send a well formatted, relevant and detailed message.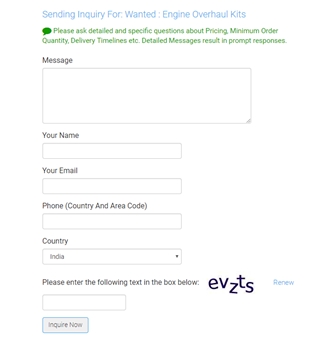 Contact us
for further questions or clarifications.