Staff Answer

Feb 05, 2020 - 12:19 AM
Hi,
Thanks for such an interesting question. Let me answer it for you to the best of my knowledge.
Trump administration focused heavily on the significance of recovering from the trade deficit as a way to prove their efficiency during the 4-year term. President Donald Trump in 2018 began setting tariffs and other trade barriers on China with the goal of forcing it to make changes to what the U.S. says are "unfair trade practices". This was aimed at bringing down the trade deficit USA experienced because of the "Made in China" revolution that had taken over the World Economy in the past two decades.
The U.S. last had a trade surplus in 1975 and that speaks volumes about the country's inability to harness the economic growth enough to stay ahead in the race.
While citing theft of intellectual property and unfair trade practices has helped USA's cause in front of United Nations, China has retaliated with tariff impositions of its own.
According to the latest quarterly survey of more than 150 global businesses by the Hong Kong-based QIMA supply chain audit and inspection service, over three quarters of US respondents report being affected by the US-China tariffs, citing rising costs as one of the most serious impacts on their businesses.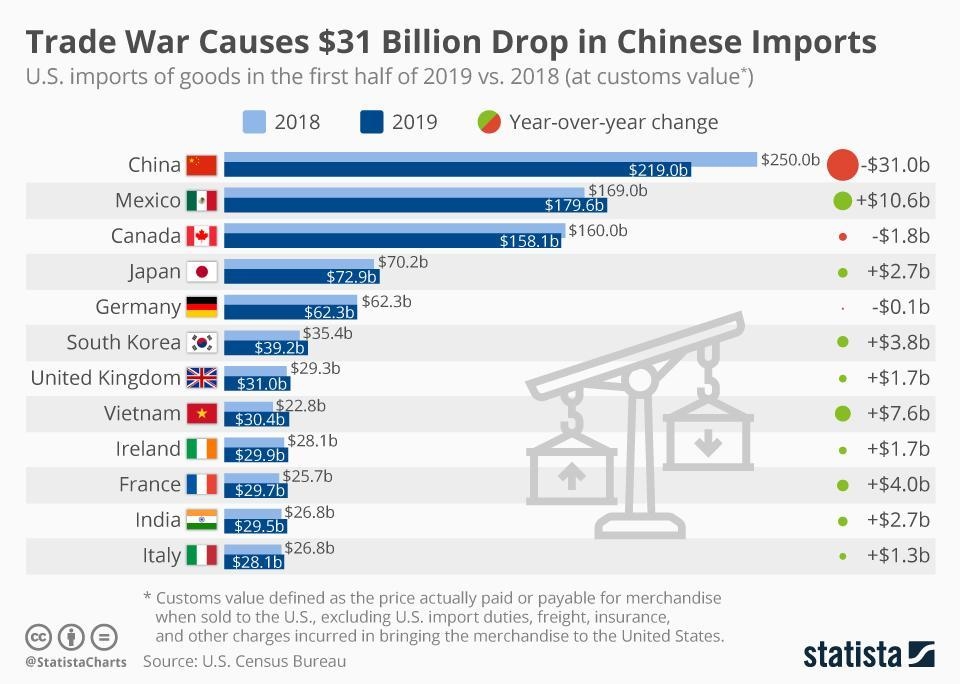 China responded by asking state-owned firms to halt their US agricultural purchases and by allowing its tightly controlled currency to slide to an 11-year low against the US dollar – a move that makes Chinese goods cheaper overseas and US exports to China more expensive.
Rather than relocating offshore manufacturing back to the US – as some in the US administration had hoped would happen – they are choosing to shift manufacturing elsewhere.
According to Japan's Nikkei Asian Review, more than 50 multinational companies including Apple, Nintendo and Dell are planning to shift at least some of their production from China to alternative emerging offshore manufacturing hubs including Vietnam, Malaysia and India.
In September 0f 2019, as a significant breather, US extended an
olive
branch by removing trade tariffs on over 400 Chinese products. Dog leashes, pool vacuum cleaners, electric skateboards, Christmas lights and drinking draws are among the hundreds of goods that will no longer going to be hit with the tariffs, the Office of the United States Trade Representative announced late last year.


China responded with hesitation as none of these withdrawals have come into effect yet. From offense to defense, China's strategy to take over from US for good took a set back. While these two nations ar locked in the vendetta, other economic superpowers are taking full advantage, or at least precautions to come out unscathed in this war.
This is indicative of a longer-term structural change in global trade flows, rather than a temporary response to the escalating US-China trade tensions. Even before the first US tariffs were imposed on China most US-based manufacturers were already considering moving at least some of operations out of China to lower-cost alternatives – mostly in Asia.
The main beneficiaries of this realignment will be countries like Vietnam which has already seen a surge in foreign investment permit applications this year – up 26 percent to 1,720 in the first half of 2019. But the shift will also benefit enterprise software and service providers – particularly those that enable companies to become Intelligent Enterprises and facilitate efficient, responsive and reliable supply chains.
Overall, while the rest of the world waits with baited breath as to who come out a winner in this war, industrialists and Business houses along with recovering economies and developing nations across the globe are finding ways to leverage this into greater success.
Source - Forbes.com
Hope this answer helps you understand the implications this trade war carries with it.
Thanks and regards,
go4WorldBusiness.com Team